Our Office Will be CLOSING Saturday 9/28/2019 At 11:00 A.M.
Helping People & Their Pets Since 1910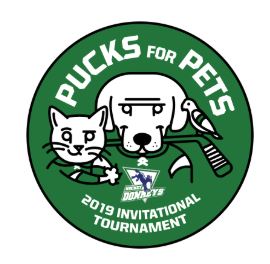 Thank You
to the
Hockey Donkeys
, who hosted their annual tournament on Friday, August 23rd through Sunday, August 25th at Skate Frederick benefiting the Frederick County Humane Society, and our partner program, the Unsung K9 Hero Project. This amazing group was able to raise over $6, 500 for us!
This donation will go a long way to replenish our Emergency Pet Food Bank serving on average 100 Frederick County residents each month. It will also assist with the Unsung K9 Hero Program, helping continue to provide the local law enforcement agency K9 units with much needed items that have been reduced due to budgetary restraints and the like.
We would also like to thank all of the local companies and private individuals of whom provided items for the silent auction that was a part of this tournament.

This year, the Frederick County Humane Society was featured in the Frederick Faces 2019 magazine. We want to thank Christie and everyone at Pulse Publishing for their work. You can check out our feature, along with all of the other great business profiles online. Our link can be found at http://www.pulsepublishing.net/frederickhumanesociety.html.
United Way
of Frederick County

Fall Quick Fix for Cats


This year, your support for our community has never been more needed. Many of our county residents are living with a very limited income, uncertain how they are going to keep their loving pets.

The Frederick County Humane Society, provides assistance to those in need through special programs made possible by generous donations from out community and local businesses.

It is now easier than ever to help those in need, by giving through the Unity Campaign of Frederick County. Follow this link to give your support! UNITYFCHS

The Frederick County Humane Society sponsors the Quick Fix for Cats clinics twice a year, once in February and again in September. Pricing for clients is $25 per neuter, $35 per spay, and $15 per rabies vaccination if needed.

The new information for the Fall 2019 Quick Fix can be found HERE. Vet participation will be different than the spring so please read carefully.
Take a Pawz, Fix Your Dawgz

The Frederick County Humane Society (FCHS) has been awarded a Maryland Department of Agriculture (MDA) grant to provide free spay and neuter services to 201 pet dogs of low-income families in Frederick County. We have partnered with Prospect Veterinary Clinic and Happy Hubz to provide Take a Pawz, Fix Your Dawgz, which will be available to residents in the 21701, 21702 and 21703 zip codes.

This program will be available immediately and will run for one year or until funds are exhausted. To qualify, residents must live within the 21701, 21702 and 21703 zip codes with household incomes below specific limits that are outlined on the application. Will not spay female pets in season.

All surgeries will be performed at Prospect Veterinary Clinic. The application, which outlines these requirements, is available here.
Sponsors . . .
| | |
| --- | --- |
| Company Sponsor: | Our Employee Sponsors: |
| | |
Visitor